We recently viewed a home that is on the market, only to find out the seller was taping the showing – we were stunned. Is this common?
Welcome to the age of cheap technology!  If you are viewing a home, whether at an open house to at a private showing, these days you must assume that you are being filmed.  There are many systems that are available, from ring to nest to cameras installed as part of a home security system.  They are fairly inexpensive, are often not recognizable as cameras and frequently record sound as well as video.  Sellers typically install them as part of a home security or doorbell system – they are not usually installed just to spy on buyers and their agents.  Typically homeowners have security in mind when they install these systems.  But when their home goes on the market, these systems do provide a handy way to see firsthand what people are saying about their home.  So yes, it has become reasonably commonplace to be filmed at a minimum around the doors of a home, but often inside as well. The owners can usually access these videos in live time on their tablet or phone, and they are also recorded for later review.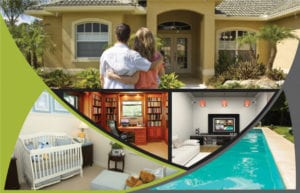 Knowing this, I would suggest that you simply revert to old-fashioned good manners when viewing homes.  Don't say anything near or in someone else's home that you wouldn't want to see on YouTube!  Don't criticize the seller's décor choices or the condition of the home – it may come back to haunt you if, after reviewing the inventory, you decide that it was in fact the best option for you, only to find out that you unintentionally offended the sellers.  Sure its ok to make factual observations, but you should refrain from judging.  Save all commentary for when you are back in the car with your agent.
If you are viewing the home with children, be mindful of their behavior as well.  Keep them with you at all times. Be sure that they are not running or jumping inside of someone else's home or touching their things. Have a hard time managing high energy children at an open house or showing?  Schedule a babysitter so that you can view the home without having to worry about monitoring their every move.
In this day of minimal privacy and cheap technology, the best approach is to assume you could very well be on Candid Camera!
FEATURED HOMES:
Tired already, just by the thought of raking leaves and shoveling snow?  No-maintenance living can be yours in the absolute heart of Sewickley Village in this stylish 2 bedroom, 2 bath condo with in-unit washer/dryer and 2 underground parking spaces.  Hardwood floors unify the living spaces.  The radiant heated marble tile master bath floor will keep your toes warm on cooler evenings this fall!  Steps from Village shops, restaurants and the theater.  $435,000.
Less than .5 miles to central Sewickley Village yet sited on private 4 acre lot. Inside, discover a modern  home with beautiful finishes. Stylishly remodeled kitchen w/ Subzero fridge, Viking professional range, charming butler's pantry. With six bedrooms, two home offices, a formal study, cozy family room with fireplace, living room with semi-circular bay window, sunroom, enormous recreation room/gym, and a 2 attached car garage (and much more!), this home is a show stopper!  $1,950,000
As an Associate Broker at HOWARD HANNA REAL ESTATE SERVICES, Kathe Barge, CRS, ABR, CNE, is ready to answer any questions you may have regarding your real estate needs.  Feel free to contact her at the office (412) 741-2200 x238, or on her mobile phone (412) 779-6060.