We aren't ready to move but want to update our home – what are the best choices for paint colors and flooring changes, assuming we may want to move in the next few years?
New paint colors must harmonize with the rest of your home, unless you plan to repaint the entire interior of your home, so any suggestions need to be taken in the context of what else is going on inside your home. My best suggestion for a currently fairly timeless paint color is Benjamin Moore's Edgecomb Gray.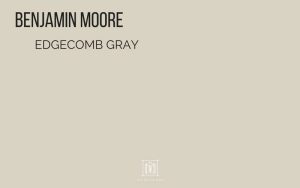 This color blends with virtually every shade of white that might be on your trim and nearly every color flooring that might be in your home.  It is really more of a greige than a gray and, like a chameleon, changes color a bit depending on what is in the space and what kind of light is filtering in through the windows.  However, if your home is a palette if golds, for example, this color might not be the right choice!  Trending now is white on white (with trim and walls painted the same or nearly the same shade of white), but this is a design style that is best incorporated throughout the entire home, and not just a singular room.  If you have wallpaper in your space, then it's a very good investment to have it removed (do not paint over it, no matter what the painter tells you) and painted in a color that coordinates with your design aesthetic. Wallpaper overall remains a difficult sell.
As to flooring, real wood floors remain the best investment you can make. They are timeless and easy to refinish if they become worn or if the buyer prefers a different color. I highly recommend choosing a medium tone brown, not too yellow, red or dark and preferably in ¾" thickness.  If engineered wood floors are what your budget requires, choose one that the manufacturer indicates can be refinished at least once, and keep a few extra pieces on hand in case you damage any through normal wear and tear. Bamboo is another great option and there are on-line suppliers that offer a variety of shades in ¾" planks – it is very resilient, environmentally friendly and installed can look like hardwood. I do not recommend that you choose the latest trend, "LVL" (luxury vinyl flooring), for anything beyond the basement level of your home. These are plastic floors, and if your home will likely sell for over $500,000, these floors will not be appreciated on the main or upper levels. Finally, carpet in a neutral tone plush (no berber, no mixed colors) is acceptable as long as they are clean and stain free.  If you stain them during the remaining time in your home, you would need to replace them again before you sell your home.